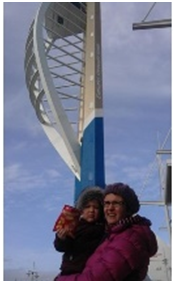 Super Sebbie Story
In May 2015, my beautiful little boy was diagnosed with a very rare cancer like condition called LCH (Langerhans's Cell Histiocytosis www.histiouk.org). He was two and a half.
He had lost two kilos in two months. His left eye was partially closed from a skull tumour. His scalp was a bloody mess. His skin was covered in spots. His ears were oozing with infection. He had an insatiable thirst to the point of drinking rain water from the trampoline. He had lost his wonderful zest for life.
After almost two years of repeated GP visits, seeing dermatology and ENT at the hospital and advice from all quarters we finally got diagnosed on Northbrook Ward in Winchester hospital.
Only 50 kids a year get this wicked illness in the UK. Nobody knows why, or how. It's so rarely seen that its diagnosis is often missed by doctors for some time.
Within three days, our little Sebbie had been through hell. He'd had cannulas, scans, prodding and poking, general anaesthetic, a central line fitted in his chest, and was away from his home and new baby brother. We were transferred to the excellent Piam Brown paediatric oncology ward at Southampton Hospital. Sebbie was put on chemo immediately.
Sebbie is on chemo for one year. His pituitary gland has been damaged for life so he has to take tablets three times a day every day to stop his body weeing to death. His skull tumours are all reducing in size. His skin now looks amazing. He now has his old mop of blonde hair back. We visit Northbrook Ward in Winchester every 3 weeks for chemo with the wonderful Dr Ian Rodd. Every three sessions we return to Piam Brown for the excellent Dr Ramya to check on progress.
So that's our story. My child happens to be that one in a million. Luckily I have been on maternity leave this year so Sebbie has had Mummy to hand (albeit with a new baby in tow). He is SO incredibly brave. He still doesn't know he's ill. He gets frustrated that he can't go to soft play or playgroup, go for a swim or dig for mud in the garden, but his immunity is low and his central line has to be protected.
I am sharing the abseil with five other Mummies from Sebbie's preschool, Rainbows Playgroup. You can sponsor them at www.justgiving.com/rainbow-playgroup. They have been amazing. They are a parent led preschool that runs in the local church. They've recently been awarded outstanding by Ofsted. Rainbows keep Sebbie feeling 'normal', beavering in the background to give him separate sand play, water play and snacks; being trained by the community nurse on dealing with any emergency; and being really supportive throughout.
Hopefully Sebbie will recover. There are many more children around the World that are being diagnosed with LCH. All with similar stories I'm sure. So please give generously to fund more research. LCH doesn't have the public's awareness, or support, like other childhood cancers but it can be just as devastating.
Page: https://www.justgiving.com/fundraising/supersebbie